JUNE MISSION TRIP - New Mexico
ELEVATE

Combination Junior/Senior High
June 17-23, 2018

•What is CTCYM?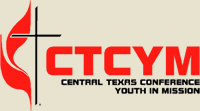 See what is going on with CTCYM by joining their pages on Facebook and Twitter!

This a wonderful opportunity to serve others in the name of Jesus Christ, while building friendships, and stengthening and renewing your own faith.
Youth and adults from throughout the congregation are invited to attend the Youth Mission Trip 2016.
Mission Trip Resources
•All youth and adults who are participating in mission trip 2018 are asked to support and participate in fundraising efforts thoughout the entire year.
•Going on Mission Trip? Register Online
•We ask everyone who needs assistance to fill out a Scholarship Form and turn it in with their registration to CTCYM.
•Everyone attending has to fill out a release form --- these are due to Chris Reyes listed on the timeline below. They MUST be notarized, so please plan ahead.
•Packing? Here is a list of What to Bring.
•Need to know more? Check out information For Trip Participants

Mission Trip Timeline

March 4th - $100 deposit must be paid when you register online at www.ctcym.org.

March 4th - You MUST be registered ONLINE by this date. Need help? Here are 9 Easy Steps to Online Registration.
Need a Good News UMC Scholarship for your deposit? Speak with Chris Reyes or Pastor Steve Moss about a Hudgeons Youth Scholarship Award. Everyone goes on mission trip if they desire --- ability to pay is not a factor.

Full Payment April 1 - Group Payment --- church will send a check.

Mission Trip Training TBD - All Mission trip youth and adults MUST attend.

All release forms and copy of health insurance cards to Chris Reyes by June 1, 2018

Commissioning June 10 ---- During morning worship.

Van rental pick-up, Saturday, June 16, 2018. Meet at the church at 8:30 am for pick-up at Enterprise in Cedar Park. All drivers must attend.

Packing Party TBD --- Meet at the church to load the trailer.

Depart Mission Trip June 17, 2018 Time TBD Bring money for lunch and dinner, and snacks for the road.
Return Mission Trip June 23, 2018 Time TBD Bring money for lunch and dinner on the return to Good News UMC.

Need help with mission trip information? Contact Mission Trip Coordinator, Chris Reyes at youth@goodnewsumc or smallgroups@goodnewsumc.org

Come join us to get connected with others, grow in God's love and grace, and serve others in the name of Christ.

We can't wait to welcome you